Brand Logos Based on Birds
Brand logos Based on Birds Brand logos based on birds represent a variety of creative, liberal, and high-impulse ideas. It also includes peace symbols, among other meanings. This type of logos has had a powerful boom
Brand logos Based on Birds
Brand logos based on birds represent a variety of creative, liberal, and high-impulse ideas. It also includes peace symbols, among other meanings. This type of logos has had a powerful boom thanks to the simplicity that manages to identify various elements.
For some years now, the use of logos based on birds has been one of the most marked trends. It is sought to represent freedom and the flight or impulse to go far.
If you are looking for ideas to inspire you to create your own logos of brands based on birds, we will show you some of them that you will like. This way you will take the most outstanding ideas from companies that have been successful and recognized thanks to their symbolism.
NESTLE
Henri Nestlé was one of the first Swiss manufacturers to develop a logo for his firm and used his family's coat of arms as inspiration to create it. In German, the word 'nest' means 'nest', and in the Swabian German dialect, '-le' is a suffix that is used to form diminutives, so the word 'nestlé' would mean 'little 'nest'. For this reason, Henri Nestlé's family crest showed a bird in its nest.

One Bright Bird
It is a brand whose logo includes a kind of macaw. It has a white background and is drawn on an orange silhouette. The white color denotes the enthusiasm and exaltation that together with the bird are formed to indicate that they are allies in your projects.
One Bright Bird Business Consulting Logo
The website is dedicated to advising non-profit companies so that they can create sustainable partnerships to raise funds.
McGuire Design
It is symbolized by an eagle with a black and white side view and an "M" on the eagle's body. It has a serious and dedicated business aspect representing avant-garde attitudes and businesses.
Logo of the design studio Mcguire Design
This design company is dedicated to the creation and fine-tuning of all the details related to a website or corporate brand. They reform everything related to the image.
Twitter
It is one of the most important social networks that highlight a blue logo representing tranquility, peace, friendship, and kindness. They base their logo on a bird of the same name that indicates chirping. It's just the idea of the network to emit contact by means of short and precise messages.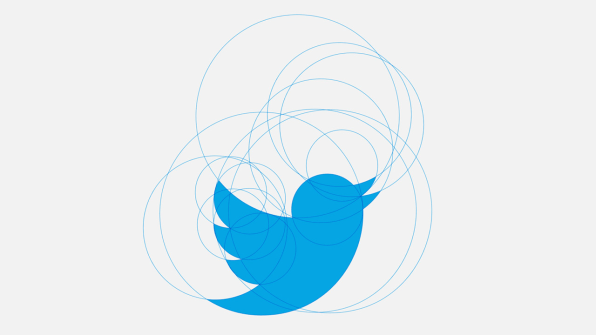 Twitter logo courtesy of Martin Grasser
Alan Technologies
It is a company represented by a hummingbird in stationary flight with a white background and purple silhouette that projects the imagination. The design goes hand in hand with the objective of the web. It is a site dedicated to working on the digital side of companies acting as a companion. They design, develop and deliver products and services from the hand of a great team in the shortest time.
Alan Technologies Logo
Air Mauritius
It is represented by a corpulent bird extended with its wings gliding, long tail and its name located underneath. It encompasses a reddish color that represents courage, life, strength or vigor clearly agreeing with the objectives of the company.
Air Mauritius logo
It is a long-haul airline that annually transports about 850,000 passengers to more than 30 destinations. The bird that represents it is a metaphor of the airplane capable of reaching different destinations without any problem.
Remember that at BBI Laboratories we are specialists in sexing birds by DNA and detecting bird diseases. You can also follow us on our main social networks (Facebook, Twitter, Instagram) where we share relevant information about our activity and the world of birds.